Boston Home
Best of Boston Home 2024
Drumroll, please! Here is the best of the best, the most discerning architects, builders, designers, craftspeople, and retailers around the city and beyond.
---
Our team searched high and low, researched, reviewed, and scoured the city and its far-reaching environs to come up with these design stars. Selecting winners is never an easy task—in fact, it's the largest project we at Boston Home undertake every year—but that's a good thing: Who wouldn't want to live in a region with so much industry talent? Read on, dear reader; here are the people and places you need to know before embarking upon your next design project.
Architects & Designers
Architect, Traditional
ART Architects
When Yale-trained architects Jim Righter, Jacob Albert, and John Tittmann launched their firm in 1996, the trio were lauded for their expertise in designing traditional New England architectural forms. Over the years, the firm has expanded to include other principals such as J.B. Clancy, who feels strongly that the region's architecture, while rooted in the classic vernacular, should also be freshly interpreted. Within the firm's vast portfolio, you'll encounter a wide breadth of residential styles: a farmhouse that features traits of a Neoclassical European villa; a shingle style designed with 12-inch-thick walls to conserve energy; a coastal home constructed around salvaged barn beams. The team takes a deeply concerted approach to ensure that the homes they design fit within the context of the landscape and within the context of the lives that inhabit them. artarchitects.com.
Architect, Transitional
Catherine Truman Architects
To Catherine Truman and her team, every project is a new beginning. As each client has a distinct palette of preferences and needs, and each site has its own history, attributes, and restrictions, each home Truman creates is uniquely tailored to suit those conditions. She and her team of 12 are versatile and experienced: the firm is adept at complex historic renovations, LEED certified new houses, sparkling city high-rises, and every type of building in between. They are interested in whole house-design: they want the interior and exterior to not only co-exist, but to complement one another and they relish designing all the details—from the window trim to the kitchen cabinetry to the chimney cap—specifically for you. catherinetrumanarchitects.com.
Architect, Contemporary
Hacin
When David Hacin opened his firm in the South End in 1993, he was a pioneer. At the time, the neighborhood was full of old warehouses and vacant parking lots. When developers discovered the neighborhood, they tapped Hacin to design Laconia Lofts—the artists' loft building that began the South End's transformation to its present incarnation as Boston's art and design hub. Hacin has always been drawn to modernism, and the new buildings his team designs are sleek and innovative and utilize a multifaceted array of materials. The veteran architect is also a passionate preservationist—one of the city's most well-known champions of historical architecture. The interdisciplinary firm's most compelling designs, according to this editor, are its renovations of existing buildings in which old and new elements exist in cohesion. hacin.com.
Architect, Coastal
Hutker Architects
Mark Hutker's firm has been a leader in designing one-of-a-kind family homes that maximize and honor coastal settings for more than 35 years. While it began as a small Martha's Vineyard outpost, Hutker has evolved into a robust firm of 40 with several principals and additional locations in Falmouth, Plymouth, and Boston. The firm's ethos has remained consistent through the decades: Hutker homes embrace the views, colors, and characters of the landscape with visual and experiential connections to the outdoors. There are no cookie-cutter homes in the firm's portfolio; each one is an architectural gem, an unexpected specimen of delight. While you may be drawn to one of the firm's past designs, the team would prefer that you didn't ask them to try to emulate something they've created before, as they'd rather collaborate with you to design a home that's supremely suited to you. Trust in their down-to-earth approach and be assured that you'll not only have your dream home, but you'll also have an heirloom to be passed on for generations. hutkerarchitects.com.
Landscape Architect
Dan Gordon
Dan Gordon intrinsically understands that our landscapes set the backdrop for the special times of our lives and are often as memorable as the experiences we have in them. A master at designing outdoor spaces that inspire and revere the natural conditions in which they are set, Gordon and his close-knit team are methodical and precise in studying the settings they work in long before the design phase begins. From city roof decks and historical-inspired parterres to lush, tree-shrouded lawns and extensive pool and entertaining areas, the firm strives to utilize traditional and native materials. The most beautiful aspect of Gordon's work is its timelessness: His landscapes never feel new or contrived, but rather as if they've always been there. dangordon.com.
New Design Firm
Blue Hour Design
We're thrilled that John Day and Kyle Sheffield have joined forces to launch their own team. These guys are the real deal: talented, innovative, and incredibly personable. Both former principals at venerable firm LDa Architecture & Interiors, the creative duo have been collaborating for years. Under their new umbrella, with Day heading up the interiors division and Sheffield leading on architecture, they're doing what they do best: designing homes for the way their people live. Many of their clients have worked with Day and Sheffield on multiple houses in various parts of the country, which speaks to their professional breadth as well as their amiable, genuine nature: once you work with them, you can't envision having another team design your home. bluehourdesign.com.
Interior Designer, Traditional
Liz Caan & Co.
You won't often find a project of Caan's that doesn't feature a liberal dose of color. After all, color is what drew the fashionable maven to interior design in the first place. Caan's use of color is deeply considered and always evocative of elegance: Even when they are awash in vivid pinks or bold geometric patterns, the spaces she designs feel classic—dramatic, at times, but never overstated. Striving to enhance its authentic nature, Caan pays attention to the architecture first, whether it's a South End brownstone, a stately antique Georgian, or a newly built suburban residence. She isn't a trend follower and believes in the enduring beauty of fine craftsmanship. You can trust her to create an aesthetic that exudes warmth and timelessness with layers of delight. lizcaan.com.
Interior Designer, Transitional
Ana Donohue
The range of homes Ana Donohue has designed in her 20-year tenure extends from city townhouses and mountain retreats to island havens and family homes. She and her team are exhaustive in their sourcing and are known to introduce pairings of unrelated materials and furnishings. Donohue goes as bold with color and pattern as her clients will allow and is equally adept at creating palettes that are calm and neutral—though even her subtle designs always feature dramatic points, an industrial light fixture, perhaps, or a mural-like wallcovering based on the work of an impressionist. Her designs are often inspired by her travels—she takes frequent buying trips for her Melrose home-décor shop. On those excursions, she also encounters pieces from under-the-radar artisans and vendors that become part of her inimitable interior design repertoire. anadonohueinteriors.com.
Interior Designer, Contemporary
Koo de Kir
Koo de Kir's creative director, Kristine Irving, brings an extraordinary level of detail to the projects she takes on. Bring her on board preconstruction or prerenovation—or even before you buy the house—and she's able to contribute architectural services, furniture design, and custom millwork on top of her high-level fabric and finish selections. Her goal is to create bespoke homes for her clients, places that tell their unique stories. Her interiors tend to reflect a balance of influences, drawing from the styling of various eras, depending on the pedigree of the home and the personality of its inhabitants. The common thread between the various spaces she's designed all over the globe is that they evoke a casual elegance that draws one in at once. koodekir.com.
Interior Designer, Coastal
Gary McBournie
Color plays a starring role in Gary McBournie's designs—and that's one of the elements that makes them so special. He'll use the most vivid blue, green, coral, yellow, or orange to make his coastal projects pop with dimension. The aesthetic of his spaces—which nod to tradition and are infused with contemporary at various levels—are always anchored to their surroundings, though you can count on him to avoid the clichés of coastal decorating. Rather, he possesses a deep appreciation for decorative arts, textures, and graphic motifs to evoke a mood that feels happy, bright, and inviting. Look for McBournie's new fabric and wallcovering line featuring coastal motifs inspired by Nantucket, where the Boston-based designer and his life and work partner, Bill Richards, have owned homes for decades. gmcbinc.com.
Interior Designer, General Excellence
Elizabeth Georgantas
Whether it's restoring an antique home on its last legs or setting the vibe for a sleek suburban new build, Elizabeth Georgantas imbues her projects with reverence, glamour, and whimsy. Though she's finely attuned to her clients' tastes, and she'll never push them too far, she has a penchant for adventure. Her spaces feature an eclectic mix of styles and global influences; they are multifaceted menageries brimming with unexpected details. Often containing rare antiques, obscure midcentury treasures, and ultraluxe wallcoverings—peacock feathers, anyone?—Georgantas's designs are eternally elegant, yet they're also approachable, and function is always top of mind. Known for her fabulous theme parties, she loves to have fun and relishes creating play spaces for kids and adults—she once designed a full-size slide adjacent to a main stairwell. livegeorgantas.com.
Builders & Craftspeople
Custom Home Builder, Boston
FBN Construction
For more than 45 years, Hyde Park–based FBN has been serving the Boston area as a homebuilder that's highly regarded by its clients for being people-centric in its projects. Specializing in custom building, custom remodeling, and home care—including small service work such as wainscoting, waterproofing, and window installation—this construction company advocates for better buildings and is committed to transparency in its process. The knowledgeable team focuses on customer needs through exceptional communication, collaboration, and a commitment to meeting market demands. fbnconstruction.com.
Custom Home Builder, North
Groom Construction
Since it was founded in 1979, Salem-based Groom Construction has found success in home construction and remodeling—and the full-service general contracting firm shows no signs of slowing down. Known for its expertise and efficiency, the company offers services ranging from preconstruction and construction management to design-build and permitting. Clients have applauded Groom's professionalism in both approach and execution based on the management and design team's experience in delivering cost analysis, expert estimating, and value engineering as part of its workmanship, which continues to expand and evolve to meet industry needs. groomco.com.
Custom Home Builder, South
The Valle Group
Constructing your forever home is emotional, so it's essential to have a builder you can trust. The pros at the Valle Group are straight shooters who've been building homes for their clients for more than 25 years. Backed by a stellar team of site supervisors, project managers, and carpenters, the firm was founded by Joe Valle and his wife, Joan. The couple's son Christian is now president. Here, client relationships are paramount. Their motto is "Starts with a handshake, ends with a hug," and there's nothing cheeky about it. This team of all-stars walks you through the process, and you can count on them to be attentive, accessible, and accountable from start to finish. Everyone knows to expect delays when construction is involved, but the Valle Group is incredibly accurate regarding schedules—sign on with them, and your home will be built solidly, beautifully, and on time. vallegroup.com.
Custom Home Builder, West
KVC Builders
Client feedback on the integrity and professionalism of Waltham-based KVC Builders is impressive, and with its five-year warranty, what else would you expect? As a premier custom building and renovation firm in the region, partners Jim Koulopoulos and Brian Vona have more than 50 years of experience combined and are committed to exceptional building and servicing of luxury homes throughout New England. Craftsmanship, customer service, and quality are top priorities for the team, which practices green, sustainable design and construction solutions that result in more energy-efficient residences. Collaboration, high standards, and superior materials also play a huge part in their process. kvcbuilders.com.
Historic Renovation Specialist
Kevin Cradock Builders
If you are renovating a historic home in the area, there's no one better suited to steer you through the process than Kevin Cradock. A lifelong resident of Jamaica Plain, Cradock, who launched his firm more than 25 years ago, grew up being amazed by the antique architecture in his neighborhood. Incredibly knowledgeable about historical building techniques, Cradock is a preservationist at heart; he will go to great lengths to restore a home's character, and when it comes to recreating historical details, his team is very resourceful. They'll also help you navigate challenging city building guidelines—for historic structures, there are a lot. In addition to working on-site on multiple projects at any given time, the team crafts its own cabinetry, furniture, and millwork out of its shop to ensure authenticity. cradockbuilders.com.
High-End Home Remodeling, Boston
S + H
When it comes to high-end home remodeling, S + H Construction has been making its mark in eastern Massachusetts and the Greater Boston area for more than four decades. Clients appreciate the top-quality craftsmanship, professionalism, personalized service, and cost efficiency that this premier residential constructor brings to each project. Concentrating on custom homebuilding, landscaping, site work, maintenance, renewable energy, renovations, and additions (among other things), the company's experienced staff employs their in-depth knowledge and expertise thoroughly in all of their work. Whether it's on an older home or a new build, problem-solving is paramount to every endeavor. shconstruction.com.
High-End Home Remodeling, North
Carpenter & MacNeille
Architecture, interior design, construction, woodworking, and property services—Essex-based Carpenter & MacNeille does them all, and clients appreciate the team's attention to detail, thoughtful approach, and outstanding project management skills throughout. Launched in 1996, the firm has been dedicated to craftsmanship of the highest quality, working on projects in New England and beyond. With comfort and value top of mind for the team, attractive and well-built solutions are at the heart of what they do for new builds and smaller home renovations. Simultaneously, Carpenter & MacNeille pays close attention to natural surroundings, materials, and composition to enhance each property's uniqueness. carpentermacneille.com.
High-End Home Remodeling, South
Cambridgeport Construction
Milton-based Cambridgeport Construction is a general contracting and construction firm known for its work in high-end historical restoration, custom homes, and contemporary new construction encompassing a range of residential—and some commercial—projects that are small to large in scale. Clients have found the team's skill, coordination, and communication on projects to be worthy of praise, along with their distinct craftsmanship. Founded in 2008, the full-service company also offers home care and maintenance plans that are specifically designed to meet each client's needs, whether it's periodic touchups or seasonal services. cambridgeport.com.
High-End Home Remodeling, West
Feinmann
With design-build as its specialty, Lexington-based Feinmann has made a name for itself as a go-to partner for home remodeling by managing all aspects of its process, from planning and architectural and interior design to construction, custom carpentry, additions, and ongoing home maintenance. Working on a variety of residential spaces, clients value the employee-owned firm for its innovation, high-quality craftsmanship, responsiveness, and professionalism. The attention to detail, budget, and timing—coupled with the team's supportive and collaborative spirit—have transformed numerous projects into homes beloved by their residents. Kitchen or bath, attic or basement, Feinmann elevates every space it works on. feinmann.com.
Hardwood Flooring
Design Wood Floors
Based in Blackstone, Design Wood Floors—which was founded in 1982 by John DiPonzio—has been committed to designing, constructing, restoring, and refinishing innovative wood floors to meet all customer needs. Working in the areas of metropolitan Boston and the South Shore, the firm excels in custom design work that's priced competitively, and clients think highly of the team's attention to detail, creativity, communication skills, and reasonable pricing. And you've likely seen their work in some of the city's most esteemed spaces, including the 'Quin. designwoodfloors.com.
Millwork
Fine Finish
Framingham-based Fine Finish's first-rate service includes engineering, fabricating, finishing, and installing high-quality, finely crafted custom cabinetry, millwork, and stairs with precision through its state-of-the-art approach. Consistency in craftsmanship, skill, collaboration, and finesse are just some of the praise clients have shared about the firm, which is also appreciated for its environmentally friendly practices. In fact, the company's sawdust recycling system was installed to deliver waste that's recycled and manufactured into wood pellets. The result? More than 100 tons of waste wood products are recycled annually. finefinishinc.com.
Upholsterer
McLaughlin Upholstering Co
Because Everett-based McLaughlin Upholstering has been making custom upholstered furniture of exceptional comfort and quality from the finest natural materials since 1889, it's safe to say the firm's longevity has enhanced its expertise. Every piece of the company's made-to-order beds, chairs, sofas, and more are handmade using Old World European techniques, and the knowledgeable staff's labor-intensive approach pays off in dividends. Services such as antique restoration, reupholstery, and upholstery repair showcase a passion for the craft as true artistry. With the heirloom pieces they produce serving as proof, customers report being highly impressed with McLaughlin's meticulous workmanship and superior service. mclaughlinupholstering.com.
Decorative Painter
Patina Designs
Pauline Curtiss, founder of Patina Designs, gloriously transforms interiors with her inventive artwork and surface treatments. She can make oak floorboards look like Moroccan tiles, thread glistening gold strands through a brick wall, and reimagine a nursery as a tropical jungle. Luckily, she is not afraid of heights. Stippling a domed ceiling or adding trompe l'oeil crown moldings to the top of the room, complete with cracks as though applied in the 18th century, is all in a day's work. Curtiss delights in pattern, from classic designs with modern twists to edgy abstractions to looks that are layered, textured, and blown to outsize proportion. And if you need to faithfully reproduce a discontinued wallcovering, Curtiss excels at that, too. patina-designs.com.
Painting
ZK Painting
Committed to innovation, education, and efficiency, owner Zach Kenney strives for perfection, and it shows: He's taken the painting business to the next level. His team is methodical in their preparation of each space, and precision is the name of their game: ZK's painted interior and exterior spaces are flawless. Kenney is communicative, accessible, considerate, and intuitive, and he ensures that projects not only meet his exacting standards but that they are completed on time. A big bonus is that ZK is Master Certified with Fine Paints of Europe, which means they are trained to do high-gloss painting, a multistep process resulting in a spectacular sheen; this skill is hotly in demand, so get your name on Kenney's list, pronto. zkpainting.com.
Garage Doors
Designer Garage Doors
Garage doors shouldn't be an afterthought. The amount of square footage devoted to a garage, carriage house, horse barn, or party barn (!) is significant, making its façade a major, often forward-facing, element. Designer Garage Doors works closely with customers to select a style that integrates seamlessly with—and even enhances—a home's architecture, be it modern farmhouse, midcentury modern, English country, Cape Cod coastal, Arts and Crafts, contemporary, or industrial chic. And then there's the technology. While your architect might spec the style, they aren't up on the mechanics. This company absolutely is. designergaragedoors.com.
Retail
Rugs
Landry & Arcari Rugs & Carpeting
If you regard rugs as artwork for the floor, Landry & Arcari is the place to acquire them. Flip through stack after pristine stack of new, vintage, and antique Tabriz, Heriz, Soumak, Serapi, Oushak, and more. The knowledgeable sales team will patiently educate you on origins and styles. (Or start by clicking through their well-organized website.) If contemporary designs are more your taste, there are ombres, abstract florals, and sharp-edged geometrics, plus a custom rug–design program for one-off, bespoke creations. The showrooms also offer a selection of the highest-quality broadloom carpets that would convince any aesthete to consider wall-to-wall. landryandarcari.com.
Wallcoverings
Studio 534
Venturing into the Boston Design Center is a must if you're after comprehensive collections of fine wallcoverings. (Purchase is to the trade only, but if you don't have a designer, they'll assign you one.) Head straight to Studio 534, a 12,000-square-foot showroom owned and operated by Josh Steinwand, who represents about two dozen emerging and established lines of wallcoverings. You'll find long-adored patterns by design doyenne Sister Parish; handdrawn Indian-inspired designs by Seema Krish; printed grasscloths in dusty gemstone tones from British stalwart Holland & Sherry; handpainted murals with Asian motifs from Fromental; and exuberant, small-batch prints by Parete. s5boston.com.
Fabrics
Zimman's
Ikat, chintz, windowpane plaid, polka dots, and leopard; embroidered, indoor/outdoor, velvet, vegan leather, cashmere, and tweed. This 100-plus-year-old, fourth-generation, family-run institution has tens of thousands of bolts of fabric for every home-décor need in a no-nonsense atmosphere with designers on hand to assist you. Stock includes the textile industry's newest releases, but if they don't have what you want, they'll hunt it down. And pricing is excellent because they buy direct from the mills. This three-level emporium provides services, too: They reupholster sofas, fabricate upholstered headboards, create custom window treatments, whip up duvets and tablecloths, and turn any fabric you fancy into a throw pillow. zimmans.com.
Contemporary Furniture
Minotti
Each piece in this refined Back Bay showroom exudes sophistication, comfort, and fine craftsmanship. The Italian brand's expansive line of offerings extends to nearly every room in your contemporary abode. While its sleek, low-slung pieces are pioneering and forward-thinking, Minotti's furnishings also have a timeless quality to them, and that likely has to do with the fact that it has been around since 1948. The company is focused on creating pieces that will endure using both artisanal tradition and well-researched modern innovations. The Boston team believes in the high quality of the showroom's selection, but they'll never steer you toward making a purchase. Rather, they'll encourage you to take a seat and experience the quality for yourself while contemplating the possibilities. minottibyddc.com.
American-Made Furniture
Room & Board
As loyal Room & Board fans can attest, once you start purchasing the company's modern, artisan-crafted furniture for your home, you'll never shop anywhere else again—and you won't need to. Room & Board's American-made pieces stand the test of time in both style and durability. Think a sculptural coffee table that lasts for decades, a plush sectional that can host years of movie nights, or a storage-equipped bed frame that combines function and elegance. And these high-quality pieces are never far out of reach with an expertly curated showroom right on Newbury Street. roomandboard.com.
Appliances
Yale Appliance
The kitchen is not only the heart of the home, but it's also the costliest. While you could seek out bargains for refrigerators, dishwashers, ranges, and the like at big-box stores, you simply won't get the same hassle-free buying experience, careful delivery, and thorough follow-up service years down the line if and when you need a repair. (Because who wants to throw hunks of steel in a landfill?) Besides, Yale Appliance price matches. They also understand that the process is confusing. The company's impressively robust blog helps elucidate differences between models and brands (they carry European and American made), provides planning advice, safety tips, and more. yaleappliance.com.
Antiques
Ramble Market
Don't be put off by the squat, brick-faced warehouse when you drive up. Once inside, Ramble Market is warm, welcoming, and chock-full of vintage finds. Midcentury-modern furnishings abound, but plenty of other styles and eras are represented, including the funky '70s and totally tubular '80s. Current standout selections? A deliciously worn-in, of-the-moment leather slipper chair, a towering metal giraffe sculpture, a framed purple Pucci scarf, and a rectilinear coffee table made from swirling slabs of black-and-white marble. There is colorful artwork everywhere, as well as lighting and a huge inventory of handknotted rugs, too. ramblemarket.com.
European Furniture
Ligne Roset
If you've always dreamed of owning an Italian villa or a French pied-à-terre, bringing a little Euro-styling to your stateside home may scratch that itch. Ligne Roset has long been a paragon of sleek European design, and today, their Back Bay showroom is clad in ultramodern modular sofas, chic decorative touches like sculptural marble bookends, and dramatic abstract chandeliers from international designers such as Pierre Paulin, Evangelos Vasileiou, and Hiroshi Kawano. ligne-roset.com.
Framing
Stanhope Framers
These local pros are committed to making your art stand out in the absolute best way possible. Considerate, creative, and precise, you can trust them to evaluate your pieces and offer multiple framing options. The materials the shop has in-house are abundant; even so, if you don't see one you like that's in stock, there are countless others that can be special ordered. Stanhope frames are akin to works of art themselves, each one cut and finished by hand. Staff are experienced in framing non-traditional items that require extra care and attention to detail, such as textiles, antique maps, and three-dimensional items. With an average three-week turnaround time, the shop, which has locations in the Back Bay and Somerville, is staffed to ensure expediency—you won't be waiting months to hang your cherished piece on the wall. stanhopeframers.com.
Lighting
System 7
If you need to see something to believe it, book a consultation at System 7's Experience Center in the Boston Design Center to witness the home-technology design company's futuristic lighting tech firsthand. Take advantage of an immersive demonstration of System 7's offerings, from smart-home controls for architectural and decorative lighting fixtures (and yes, the System 7 team can help you select those, too) to state-of-the-art tunable LEDs that emulate natural daylight. In our opinion, the simulated skylights and windows from Lightglass are perfect for the gloomiest, grayest days of winter. Goodbye, seasonal blues! systemseven.com.
Home Accents, Boston
Thieves Next Door
Lana Barakat knows how to balance an edgy aesthetic with more-traditional sensibilities. So expert is her approach that even in preppy Beacon Hill, her home-décor shop, Thieves Next Door, is always abuzz. The boutique is a wonderland of curiosities created by small-batch makers near and far. Karen Gayle Tinney's earthy stoneware vases with fiber fringe are one-of-a-kind objets d'art; chunky raspberry-tinted wineglasses made from handblown recycled glass look at home on any table; iBride trays picturing half-humans-half-beasts draped in opulent garb can hang on the wall or add interest under hors d'oeuvre; and tiny stone obelisks satisfy those seeking a pocket-sized mystical treasure. decemberthieves.com.
Home Accents, South
Trellis Home
Remaining devoted to her penchant for color and pattern, interior designer Allison Mattison's studio and shop, Trellis Home, offers a bright spot in the epicenter of neutral coastal décor. Rather than place a grasscloth-wrapped console in a plain white room, Mattison is inclined to throw a large-scale Thibault wallcovering behind it. She loves animal prints, palm fronds, and fretwork—in the same space. As such, you'll find all manner of furnishings, artwork, and accessories (gifts galore!) celebrating such styles in the shop. Quirky portraits of sea captains with rope-trimmed frames are smile-inducing new additions, and just try to resist her luxe tassels in irreverent color combos. trellishome.com.
Home Accents, West
Elizabeth Home Décor & Design
Interior designer Elizabeth Benedict brings her signature pattern-filled, color-drenched New England style to every inch of this clay-tiled roof cottage. What started as a robust retail shop and a showroom for fellow designers (don't worry, anyone can purchase furniture and fabrics) is a full-on destination with an Illy coffee bar and fresh flowers. Vibrant artwork hung frame-to-frame—landscapes! Portraits! Still lifes! Abstracts!—is a master class in curating a gallery wall while throw pillows in ikats, block prints, and plaids nestle effortlessly on shelves and sofas. Books, vases, and other accents with chinoiserie flavor (so many ginger jars) make it a must-stop for hostess gifts and holidays. Benedict has every base covered. elizabethhomedecor.com.
Home Accents, North
Gray House Art & Antiques
Don't be fooled by its name; Gray House Art & Antiques is neither fusty nor formal. Rather, Cordelia Fasoldt's chic curation of old and new art, small furniture, and décor is a fresh take on the cozy New England aesthetic. The 700-square-foot shop in downtown Manchester-by-the-Sea is set up like a living room, and its proprietor, a former ad exec with a young family, wants you to stay awhile, kids in tow. You'll find English, American country, and midcentury pieces among cheeky graphic prints, African masks, and charming little birds carved by a local maker. Plus, coffee-table books and Peruvian blankets waiting to be gifted. grayhouseantiques.com.
Kitchen & Bath
Bath Design
McGuire + Co.
One recent bath renovation from the full-service firm McGuire + Co. showed the true power of expert-level design and installation (the founder has 20-plus years of experience in the biz). In the complete overhaul—aptly named project "Full Throttle"—the McGuire + Co. team spared no detail as they transformed a kids' bathroom into a parents-only escape. A tired white tub became an oasis with deep green chevron tiles, gold hardware, and a full glass wall. A drab vanity was replaced with dark wood and a gleaming white countertop, while moody, elegant sconces replaced overhead lighting. Showstopping, indeed. mcguirekitchenbath.com.
Kitchen Design
Jewett Farms
If the kitchen is the heart of the home, why not have it seamlessly fit your personal style and needs down to every last detail? That's the ethos of design firm Jewett Farms, whose team has been dreaming up striking kitchens for a quarter century. Though consistently sleek and modern, there's always something special about a Jewett Farms space that uniquely suits its owners to a T—whether it's a playful accent wall of lemon-yellow cabinets, a five-person island perfect for entertaining, or an English-inspired kitchen for a European expat. It seems that nothing is ever off-limits. jewettfarms.com.
Cabinetry
Crown Point
From knotty cherry to Douglas fir, red oak, and reclaimed chestnut, not to mention face frames, moldings, and brackets galore, there are almost too many choices at Crown Point Cabinetry—almost. The New Hampshire–based cabinetmaker has decades of expertise designing and building fully custom cabinetry that suits every project and the customer service to match. Gleaming white Victorian-style cabinets for a spacious kitchen? Check. A home office with plenty of open shelving? No problem. What about a green-painted bathroom vanity or a white-oak tub surround? Done and done. crown-point.com.
Stone Fabrication
Cumar
Family-owned and operated since 1992, Cumar's expertise runs deep, both in the knowledge of its consultants and engineers and the carefully honed skills of the stone artisans in their shop. The Everett-based fabricator boasts the largest showroom in New England, stocked with exotic stones, marble, granite, and limestone carefully sourced from all over the world—so if you can't find what you're looking for at Cumar, you likely won't be able to find it anywhere. As for the quality of their work, look no further than an entire bathroom wrapped in floor-to-ceiling marble or massive fireplaces encased in beautiful stone you've never seen anywhere else. cumar.com.
Tile
LaFauci Tile & Marble
This family operation runs under the radar, so it's easy to miss. But if you're lucky enough to find yourself in the incredibly well-stocked showroom, you'll be very glad you did. The range of porcelain, ceramic, glass, granite, and marble offerings is vast, and much of it is in stock or able to be delivered in just a day or two. Founded by Saverio and Carmela LaFauci, it's now run by their son, Joe, who, if you're lucky enough to see him when you stop in, will be treating you like an old friend by the time you leave. (Another son, Anthony, runs installation company Precision Tile & Marble.) If you're not sure what you're looking for, LaFauci has in-house designers who can create schematics and help you make selections that will turn your kitchen or bathroom into everything you dreamed of and more. lafaucitile.com.
Fixtures
Designer Bath
A family-run operation for more than 70 years, this business is a labor of love, and it shows. The well-designed showroom features an abundant assortment of high-end fixtures and accessories for kitchens and bathrooms, though you'll never feel overwhelmed when perusing the options; rather, you may never want to leave. Vignettes are visually appealing, and there are several working displays—in one spot, it's possible to turn on kitchen faucets to evaluate water pressure—and walls of showerheads that allow you to compare models side by side. The goal with these folks is not closing a sale but rather educating you on the options—which are endless when you start to consider fit, finish, and style—and creating a long-term relationship. designerbath.com.
Hardware
Needham Decorative Hardware
Think of your hardware like the cherry on top of a sundae. Your design is almost there, but it needs a finishing touch. Needham Decorative Hardware carries an endless array of hardware for every taste: solid-bronze deadbolts by Ashley Norton, sleek reeded pull handles from Samuel Heath, and leather-clad doorknobs by Turnstyle Designs. They also boast an impressive selection of bath hardware and faucets, unique pieces like copper-bowl sinks, and even the finishing touches that are often overlooked—like toilet-paper holders and vanity magnifying mirrors. decorativelocks.com.
Specialty
Upholstery & Carpet Maintenance
MWI Fiber-Shield
If only we could live a stain-free existence, and our upholstered furniture, rugs, and window treatments could remain in their brand-new condition forever. Alas, that's impossible—but MWI Fiber-Shield offers the next best thing: stain protection. Have your furnishings treated with the company's proprietary polymeric system and live virtually worry-free. Even if your furnishings haven't been pretreated, rest assured: MWI Fiber-Shield will come to the rescue. Owned for more than 25 years by Michelle and Wayne Southworth, who run a tight ship of devoted team members, there's no stain they haven't encountered and very few that they haven't been able to conquer. There's no need to worry that harsh chemicals are being used to clean, because the company only uses eco- and ozone-friendly, biodegradable products. mwifibershield.com.
Closets
California Closets
These days, organization is key in almost every facet of our lives, but especially when it comes to our closets and other home-storage areas. There's no way to know about all of the options without having one of the savvy designers from California Closets come to your home to survey your setup. And trust us, you'll be glad you did. The company's local designers are supremely skilled at quickly assessing closet space and winnowing down possible solutions, and they'll help you pick materials and accessories that are in line with your aesthetic. Far more than just a closet outfitter, California Closets specializes in luxury space management: pros are adept at designing home office and library systems, garage storage, and wine cellars, in addition to kitchen pantries and entertainment centers. Once you get started with them, you'll find yourself wanting to work their magic throughout your entire home. californiaclosets.com.
Home Technology
TSP Smart Spaces
The idea of "smart technology" can make some people—this editor included—apprehensive. But rest assured, TSP Smart Spaces is here to help ease your technology journey. These pros will lead you through the process of automating your home from design to implementation. They'll walk you through options by asking questions like, "Do you want your technology to make a design statement or be invisible?" And they'll strive to work with you or your interior designer to make sure your home's design narrative blends with your new technology system. The best part? The team provides aftercare support to ensure that you're able to keep your home secure and operating the way you want it to. tsp.space.
Art Gallery
Krakow Witkin Gallery
Krakow Witkin Gallery exhibits marquee names in minimal and conceptually driven contemporary art—Jenny Holzer, Tara Donovan, and Julian Opie, to name a few—in the expected pristine setting. That said, this is not meant to intimidate; Barbara Krakow and Andrew Witkin beckon all to visit. Don't just take in the current exhibitions (Kara Walker's current show is a must-see); let them know you want to learn. The team is dedicated to sharing their depth and breadth of knowledge to demystify and educate. Ready to buy? That's straightforward, too. The gallery adheres to a seldom-seen no-discount policy, with works starting at $1,200. krakowwitkingallery.com.
Custom Drapery
Makkas Workroom
While some elements for the home can be bought off the shelf, high-quality window treatments simply must be customized. And rest assured, the folks at Makkas know exactly what they're doing when it comes to creating draperies. A family-run business for more than four decades, this dedicated team has an eye for all the details and makes site visits to offer personalized recommendations—from fabric and style to hardware and shutters. Then their team of deft seamstresses handle every pleat by hand before returning to your home for careful installation. makkasdrapery.com.
Outdoor Living
Garden Center
Mahoney's
How does your garden grow? If you procure your plants from Mahoney's, we're guessing it's flourishing. This family-run, full-service garden center, which has been in business since 1959, cultivates many of its annuals, perennials, and edible plants locally in five acres of greenhouses at its growing facility in Woburn. Each of their seven retail locations is replete with trees, shrubs, flowers, houseplants, and such, bringing hashtags like #dahliasfordays to life. They fill all the peripheral needs, too, from mulch and fertilizer to bug repellent and birdseed, as well as tools, planters, firewood, and, come holiday season, Christmas trees and wreaths. mahoneysgarden.com.
Outdoor Furniture
Casa Design Outdoor
With Casa Design Outdoor, Zhanna Drogobetsky extends her finely honed sense for furnishing contemporary interiors to any open-air situation you can imagine. Discover pieces akin to those found at boutique hotels from innovative European brands at the SoWa showroom or in the extensive online catalog. Tribu's minimalist teak loungers, Paola Lenti's Barbie-pink and tangerine poufs, and Kettal's decadent daybeds with sleek strapping are just a few fashion-forward favorites. Tables and chairs are so refined you won't believe they're for dining al fresco. Lastly, lighting, planters, and fire pits will round out the tableau. casadesigngroup.com.
Pool Design & Construction
Easton Pool & Spa
The decision to put a pool in is monumental. It's the kind of thing—like buying your first home or your first luxury "weekends only" car—that feels like a milestone. So ensuring that the reality lives up to your daydreams is essential. Easton Pool & Spa will partner with you to make sure every step—from their initial consult at your home to design to installation—gets you the results you want. From bespoke inground pools and hot tubs that blend into your landscape to helping you renovate a dated spa setup, their team can tackle any dream, no matter how big. eastonpool.com.
Fencing
Perfection Fence
A fence should do a few things: It should define your space and give you privacy. It should never feel at odds with your landscape. And it should feel like a natural extension of your home design. No one understands the importance of these details like Perfection Fence—a family-owned business known for its locally manufactured fences (they also build pergolas, trellises, and arbors), hardy materials, and eye for crafty design on difficult landscapes. perfectionfence.com.
Landscape Design/Build, Boston
Parterre Garden
Landscape design in Boston is a unique undertaking. Either you're maximizing green space in a brownstone courtyard, or you're prepping a yard for the sometimes harsh four seasons of New England weather. Parterre Garden can handle both challenges with finesse—designing outdoor spaces that can feel like an oasis in the middle of a city or a sprawling yard that feels as lush in the browns and oranges of fall as it does in the summer. Taking seasonal shifts and the unique needs of each client into consideration, this team deftly balances perfect plantings with terraces, walkways, and water features to create an ecosystem all your own. parterregarden.com.
Landscape Design/Build, North
The MacDowell Company
They call it landscape "architecture" for a reason—every detail is a carefully considered piece of a larger work of art. If one hydrangea or paving stone is out of place, the vision is not wholly complete. The MacDowell Company approaches their landscapes as the art that they can be. Its top-tier design team transforms outdoor spaces into extensions of the home, meeting the needs and style of each household. A skilled team of masonry and landscape artisans ensures that every detail—from tennis courts and fireplaces to rose gardens and terraces—is meticulously crafted to make the big picture spectacular. themacdowellcompany.com.
Landscape Design/Build, South
Paragon Landscape Construction
Founded by husband-and-wife team Tim and Stephanie Reid, Paragon Landscape Construction is a full-service firm that can tackle anything from the nitty-gritty of grading and drainage to the artistic elements of creating an outdoor haven, like lush plantings and mood lighting around their custom pools. From top to bottom, their team creates all-season spaces to relax and gather—a fire pit for a romantic nightcap, an outdoor kitchen for dinner parties, or a pool for family swims. paragonlandscape.com.
Landscape Design/Build, West
A Blade of Grass
A Blade of Grass owner Jim Douthit has a self-professed love of beautiful gardens, which makes his business a natural evolution of his passion. His landscape-design firm's work is proof that a passion for the outdoors begets amazing results: pools that maximize oceanfront views, patios that make moving from indoors to outdoors totally seamless, lush rural gardens with winding pathways lined in perennial purple echinacea, and built-in rustic fireplaces for gathering with friends. abladeofgrass.com.
First published in the print edition of Boston Home's Winter 2024 issue, with the headline "Best of Boston Home."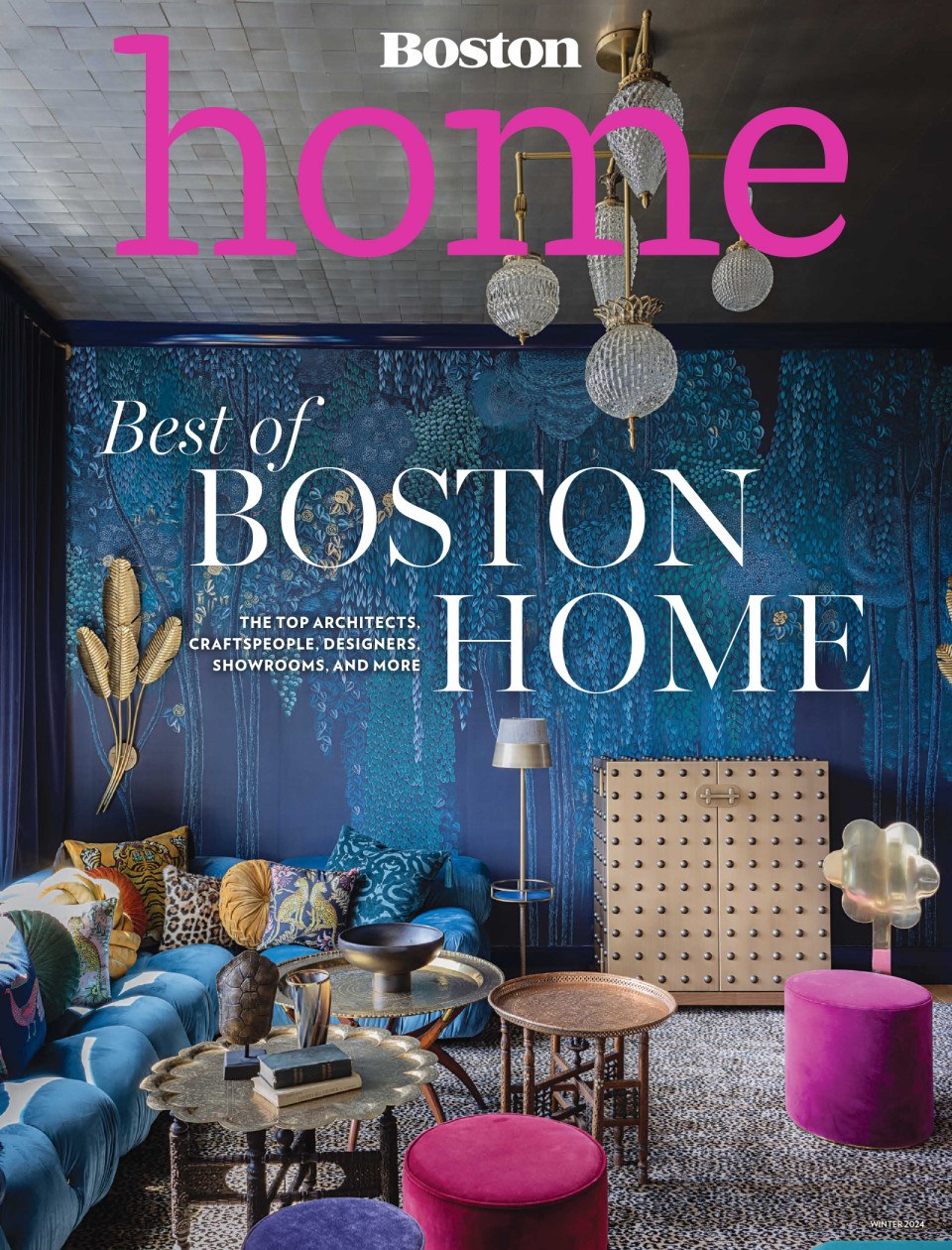 ---